Apprenticeships contribute towards the development of digital skills by providing opportunities for work & study. They can serve as part of your journey to a meaningful career. During the program, apprentices get exposure to different areas & teams at Google. Candidates will also work on developing their professional skills on the job while receiving external training. To know more about 'Build Your Future, Google Apprentice 2024', follow below article.
Build Your Future with Google Apprenticeship Registration Dates 2024
Everyone's dream is to work in or for google. But somewhere we all know that it's not easy task. Google have come up with a brilliant opportunity who wants to work with google. All interested & eligible candidates can apply online. Google has opened a new program known as "Build Your Future with Google Apprenticeship".
Registration for 2024 has started. All candidates who have a desire to work with google can apply online. Application process will end soon on further notice. Candidates have to submit the most updated version of your CV/resume. Along with an accompanying cover letter outlining the reasons why you feel you would be a great fit for the program.
Further, to know more information regarding Build Your Future with Google Apprenticeship, follow the below article. Moreover, official portal link is also shared below, check it out. You can also check out eligibility criteria & other documents details below.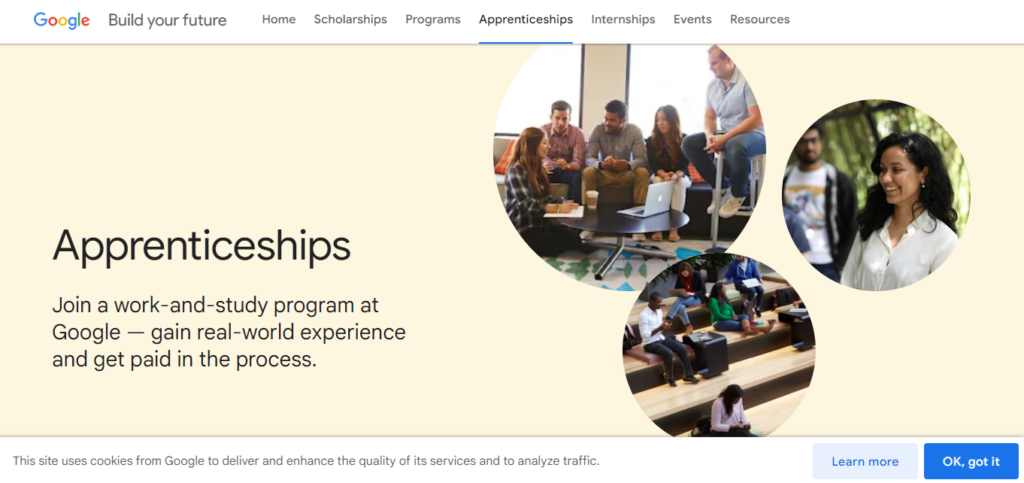 Overall Details About Google Apprenticeship 2024
| | |
| --- | --- |
| Name of the program | Google Apprenticeship |
| Company | Google |
| Year | 2024 |
| Type | Recruitment |
| Minimum age to apply | 18 years |
| Registration date | Open now |
| Mode | Online |
| Last date to apply | To be announced |
| Official Portal | buildyourfuture.withgoogle.com |
Google Apprenticeship 2024 Eligibility Criteria
Candidate should have a permit to work in the country where you are applying.
Applicant must have ability to speak and write in English &/or the local language fluently and idiomatically.
Candidate must hold strong academic performance.
Minimum age to apply 18 years of age
Documents Required For Applying Google Apprentice 2024 Build Your Future
Candidate's updated resume
For U.S candidates only resume is enough.
Rest countries candidates must have cover letter, responses to multiple short answer questions.
Latest transcript available or an aptitude test depending on the track & location.
Identity card
Birth certificate
Citizenship card
Disability certificate [if any]
Personal Details
Locations Offered By Google Apprentice Build Your Future Program
Africa
Americans
Asia-Pacific
Australia / Oceania
Europe
Middle East
Google Apprentice Build Your Future Program Professions 2024
Customer Engineering
Data Analytics
Data Centre Technician
Digital Marketing
Information Technology
Project Management
Software Engineering
UX Design
How To Apply For Google Apprentice Program 2024 Online
To begin with, open official portal of google apprentice via link provided below.
On home page, browse your apprenticeships.
Now, click on your desired apprentice & apply now.
Applications will only be considered if all materials are included.
Submit your applications
Some Important Links
Google Build Your Future Official Portal link – click here
Frequently Asked Questions About Google Apprentice 2024
How do I apply?
Click on apply as soon as you see apprentice open
Is Google apprenticeship full-time?
 not a full-time opportunity but a chance to upskill yourself through learning and development in your chosen field.
Are international applicants eligible?
International applicants are welcome to apply as long as they have work authorization for the country where they are applying, and meet all other minimum requirements listed in the job description.