National Skill Development Corporation of India (NSDC). It launched Nsdc India Apprenticeship program. That opens doors to skill development & job opportunities. For every individual across country. An apprentice a person who has signed a contract of apprenticeship. With an establishment to under go apprenticeship training. NSDC India has all forefront of revolutionizing country's workforce. It offer a diverse range of apprenticeship programs. These initiatives play a pivotal role. By bridging gap between education & Employment.
Nsdc Apprentices Registration Dates 2023
NSDC's apprenticeship program it's a mission to empower youth of India. With those skills they need to succeed. Apprenticeship a Skill Training program. Also registration of NSDC will start on 21st February, 2023. Last date of registration 9th April, 2023.
Where a person engaged by a company as an apprentice. Also gains classroom (theory) learning for a short period, followed by job (practical) training. By partnering with various industries & organizations. NSDC creates a conducive environment for hands-on learning & skill enhancement.
One of key strengths of NSDC's program its diversity. It spans across industries, including manufacturing, services, etc. Apprenticeships under NSDC. Equipping individuals with practical skills & preparing them for challenges of job market. Further to know more information regarding NSDC. Follow our article below.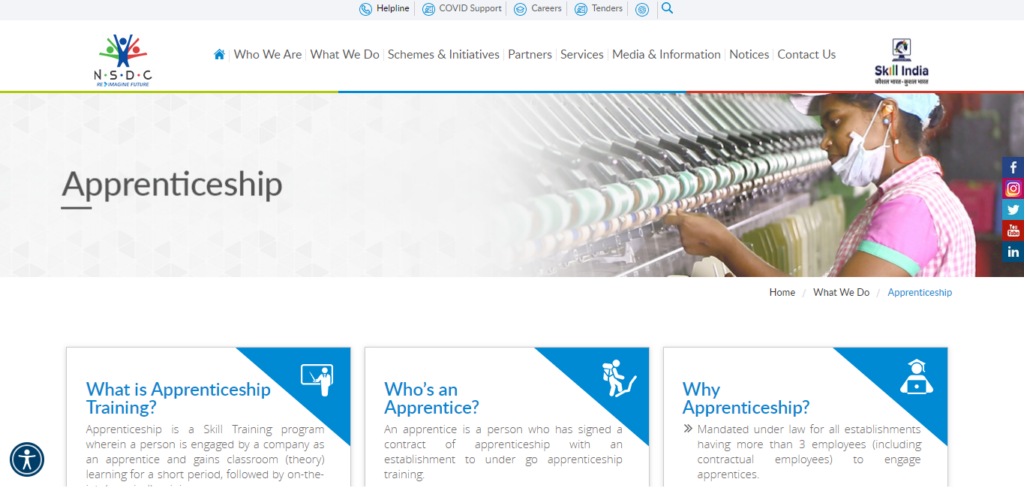 Basic Information Of NSDC Apprentice Program
Important Features of NSDC
NSDC has 462 training partners
There 11,000 training centers associated with NSDC
NSDC has 2100 job roles
Core team of trained people of 12 people
NSDC has a record of placing 68 lakh professionals.
Eligibility Criteria For Apprenticeship Training
Duration of apprenticeship training course ranges from 6 months to 3 years. This course can pursued by ITI pass-outs, diploma holders & fresh candidates.
ITI pass-outs, diploma holders, PMKVY pass-outs. ITI & diploma pursuers can learn this course. Also excluding theory part. However, fresh trainees need to learn entire course thoroughly.
Candidates applying for this course should 14 years or above.
Minimum education required to join this course that candidate must have passed 5th.
| | | |
| --- | --- | --- |
| Apprenticeship Training | Duration of Apprenticeship Training | Classroom Theory Exempted |
| ITI Pass Outs | 6 – 36 months | ✔️ |
| Graduates/Diploma Holders | 6 – 36 months | ✔️ |
| All Pass Outs from NSQF aligned courses including PMKVY/DDUGKY etc | 6 – 36 months | ✔️ |
| Dual-Learning Mode from ITI | 6 – 36 months | ✔️ |
| Pursuing Graduation/Diplomas | 6 – 36 months | ✔️ |
| Fresh Apprentices | 6 – 36 months | ❌ |
Application Form Fees Details
NSDC India's apprenticeship program generally free of cost. There is no application form fees for candidates applying to these opportunities. Additionally, if any application fees charged it will update before applying.
Documents Required For Applying NSDC's Apprenticeship Program 2023
Aadhar card or any government-approved ID proof.
Educational certificates and mark sheets.
Passport-sized photographs.
Caste certificate (if applicable).
Any additional documents specified in apprenticeship notification.
Some Important Dates To Remember – NSDC Apprenticeship 2023
Stages
Start Date
Days
End Date
Registration & Language Testing
Registration of Students on NSDC Digital Platform
Tuesday, 21 February, 2023
31
Sunday, 9 April, 2023
Registration of Employers on NSDC Digital Platform
Tuesday, 21 February, 2023
38
Sunday, 16 April, 2023
Screening & Language Test – Online
Monday, 10 April, 2023
6
Sunday, 16 April, 2023
Screening & Candidate Mapping
Candidate Applying to Jobs/Employers
Monday, 17 April, 2023
6
Sunday, 23 April, 2023
Employers Shortlisting Candidates
Monday, 24 April, 2023
6
Sunday, 30 April, 2023
Candidate Mapping & Allocation – Online
Monday, 1 May, 2023
6
Sunday, 7 May, 2023
Interview Process & Trade Testing
Preliminary Round – Hybrid* in different cities across India
Monday, 15 May, 2023
15
Tuesday, 30 May, 2023
Trade Testing (if Required) & Shortlisting/Candidate Mapping
Wednesday, 31 May, 2023
8
Thursday, 8 June, 2023
Final Round, Hybrid* in different cities across India
Monday, 12 June, 2023
8
Tuesday, 20 June, 2023
Final Stage
Closing Ceremony – Physical Location – To be Decided
Wednesday, 28 June, 2023
1
Wednesday, 28 June, 2023
NSDC's Apprenticeship Salary or Stipend Details 2023
Stipend or salary for apprentices varies depending on Industry. NSDC ensures that apprentices receive a competitive stipend to support their living expenses during training period.
Sharing of 25% of prescribed stipend subject to a maximum of INR 1500/- per month.
Sharing of cost of basic training with Basic Training Providers (BTP). BTP up to a maximum of INR 7500 per trainee. A maximum of 500 hours calculated INR 15 per hour.
How To Apply Online For NSDC Apprentice Program 2023
Visit NSDC's official website – NSDC India.org
Navigate to "Apprenticeship" section.
After that search for available apprenticeship opportunities.
Select desired apprenticeship & read details carefully.
Select "Apply Now" or "Register" button.
Fill in online application form with accurate information.
Upload required documents.
At last, Review application & submit it.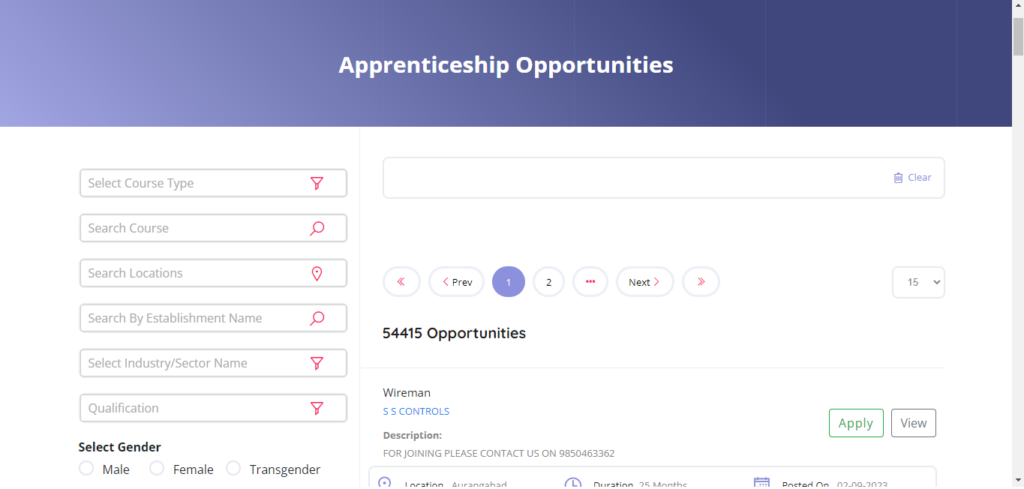 Contact Details
Candidates+91 – 88000 – 55555
Monday- Saturday 9 AM to 6 PM
Training Partners1800-123-9626
Monday- Saturday 9 AM to 6 PM
AEBAS011 – 47451615 (Ext – 752)
011 – 47451616 (Ext – 763)
Monday- Friday 9 AM to 6 PM
Full Escalation Matrics
Centre Accreditation & Affiliation (A&A)1800-123-9626
Monday- Saturday 9 AM to 6 PM
SDMS011 – 47451600
(Ext – 774 / 764)
Monday- Friday 9 AM to 6 PM
Grievance Helpline Number for Candidates1800-309-1920
Monday- Saturday 9 AM to 6 PM
Some Important Links
NSDC Official Portal Link – click here
Frequently Asked Questions Regarding Nsdc Apprentice
What is apprenticeship with example?
Apprenticeship is a kind of job training that involves following and studying a master of the trade on the job instead of in school.
Is NSDC certificate valid for govt job?
NSDC to certify that the individual has acquired the necessary skills and knowledge to perform the job. The legitimacy of NSDC certificates is assessed by the government agencies responsible for recruiting individuals for government jobs.
Who is eligible for NSDC?
Details are provided above check it out